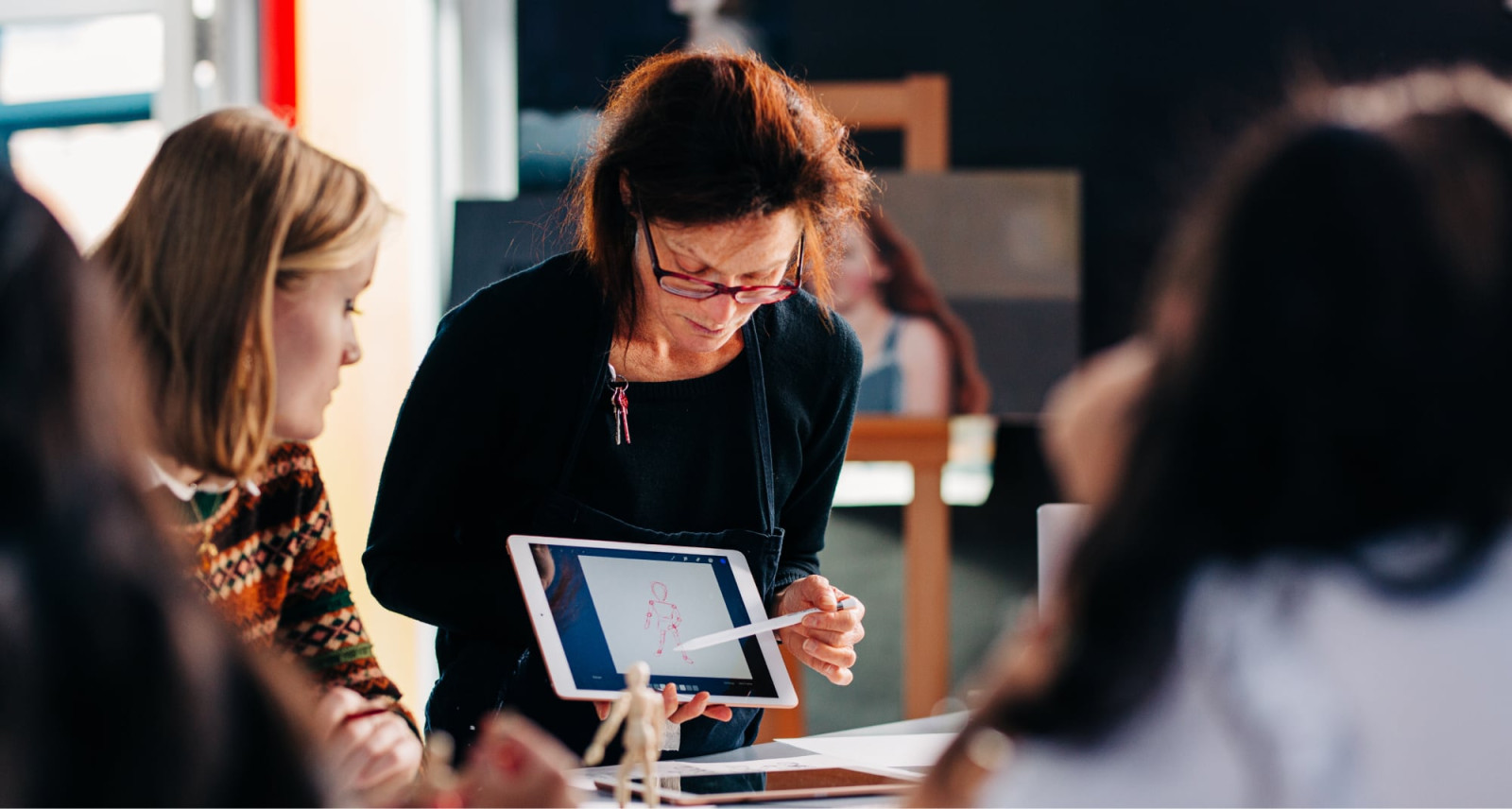 I have a question about how to use Procreate.
If you are having any issues using the app, get in touch with our Product Care team via the Procreate website. If you'd like to get to know all about Procreate's powerful features, you can find everything in the Procreate Handbook.
Is there an education discount for Procreate? Can I buy Procreate in bulk for my classroom?
A 50% discount is available through Apple School Manager if you buy 20+ licenses. We recommend purchasing Procreate this way for your students, and link it through to a Mobile Device Management (MDM) service.
For more information on setting up and distributing apps with Apple School Manager, you might like to refer to Apple Education's Deployment Guide.
I have the app, where can I learn to use it?
The best place to start is our four-part Beginners Series. This is an introduction to Procreate and the basics of digital art. You can watch all four episodes and download accompanying classroom resources here.
Our YouTube channel has a a series of technical tutorials that deep-dive into various features of Procreate, and the Procreate Handbook is also an invaluable educational resource for those looking to deepen their understanding of the software.
Does Procreate have a student-data privacy policy?
The Privacy Policy for Procreate and Procreate Pocket can be found here. Procreate doesn't collect any user data. We strongly believe in not collecting or sharing your data, period. It belongs to you.
You can also view this information on our App Store page.
Is there an education edition of Procreate?
No, there is only one version of Procreate. We believe students benefit from equal access to the same tools that professional creatives use. 
Is Procreate suitable for young students?
Procreate is made for artists by artists, so there is an inherent understanding that we never let the tools get in way of the creative process. This is why Procreate's user interface is so minimal, yet fully featured and delightfully natural and simple to use. 
This is also why Procreate lends itself so well to being used in the context of Education. It's simple, but not simplistic. Educators can quickly and easily teach themselves the basics, and we've seen students as young as 4 years old use Procreate with the support of their teachers to make wonderful art in an educational setting.
What support is there for educators using Procreate in the classroom?
This website has a number of resources that focus on helping K-12 teachers bring creativity into the classroom, right across the curriculum. These include a collection of guides for beginners and lesson ideas which are flexible lesson plans that educators can use as a springboard, to leverage and adapt to align with their teaching outcomes. 
You can also connect with our community of educators using Procreate on Twitter @ProcreateEDU, or reach out to our Education Team anytime at education@procreate.art.
What accessibility features does Procreate have?
Procreate has a collection of unique features designed to make creativity powerful, beautiful and joyful for all artists, as well as supporting Apple's inbuilt iPadOS accessibility features. You can read about Procreate's accessibility features in this section of our Handbook. 
Still need help?
Talk to the team